EIK "ONE HEART ONE MIND" Charity Golf Tournament 2.0
admin
EIK proudly announce  will organize the second EIK One Heart One Mind Charity Golf Tournament for year 2019.
This Second Charity Golf Tournament Event benefiting the less fortunate and to foster a warm relationship between less fortunate community and the business community. EIK is committed to raise awareness in order to help the helpless organization and association.

Horizon Hills Golf & Country Club reckoned to be as the premier golf club in the southern half of Malaysia.
Our charity tournament offers a day of fun with upscale golfing at Horizon Hills Golf & Country Club, a breath-taking, challenging piece of art within a 1,200-acre freehold township development in the heart of Iskandar Puteri which itself is a key flagship zone within the Iskandar Development Region.
The 100% of proceeds from this tournament will go towards helping the less fortunate community. Because what matter is to give back to the society at large. This event will allow your company to support a worthy cause as the saying goes "To Give is Better Than to Receive".
EIK CHARITY GOLF TOURNAMENT 2.0
Date:
April 11th, 2019
Venue:
Horizon Hills Golf & Country Club, Iskandar Puteri, Johor, Malaysia
Program Details
11:00 am – Registration & Light Lunch
13:10 pm – Group Photo
13:30 pm – Shotgun Tee Off
19:00 pm – Dinner, Price Ceremony & Lucky Draw
22:00 pm – End

Fast greens and fairways in mint condition has given appealingly fresh look for Horizon Hills.
We assure that golfers will have a wonderful golfing experience with good mixture of guests from within and outside the Heavy Machinery industry for excellent networking. We also have sponsorship opportunities available for this event.
There will be a lot of activities available on that day to make the day memorable for all. It is going to be a meaningful day for participants with the excitement activities starting from Group Photo shoot and Shotgun Tee Off for the beginning and the amazing luxury Goodies Bags and Beer Huts. For this year tournament, there will be 4 categories contested. Good luck to golfers in winning one of the categories or even all the categories for Novelty Prizes, Top 5 Winners Net Category (system 36), Top 3 Winners Gross Category (Best 3 Gross Score) and for the most awaits Grand Prizes for the Hole-In-One category. Winner will bring back RM 50,000 worth EIK product voucher or RM 25,000 cash money.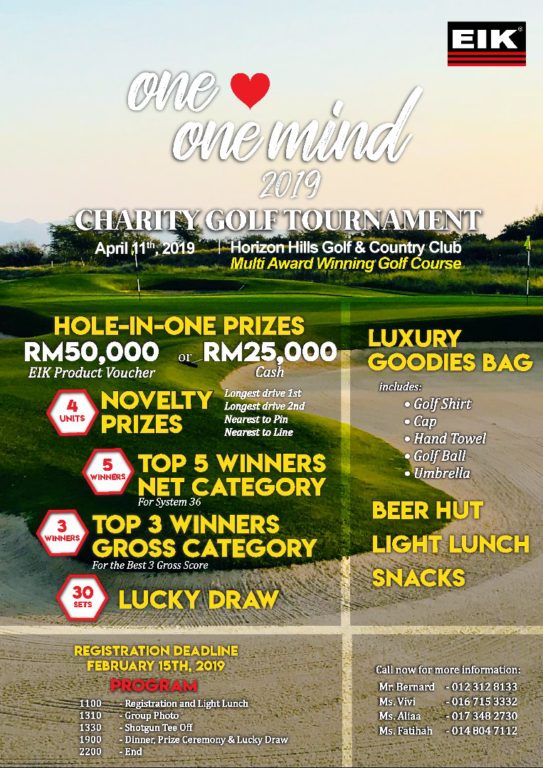 Throughout the tournament, participants with sponsor and organization will be recognized as the officials sponsor and also will acknowledge on EIK websites, and banners.
Thrill to get real! Get ready to swing while doing charity! Let's give a hand for the less fortunate community to achieve our One Heart One Mind mission!
EIK One Heart One Mind 2019 Charity Golf Tournament!